The ABA Has Re-Certified the NCDD as the Sole Certifying Body for DUI Defense Specialists in this Country.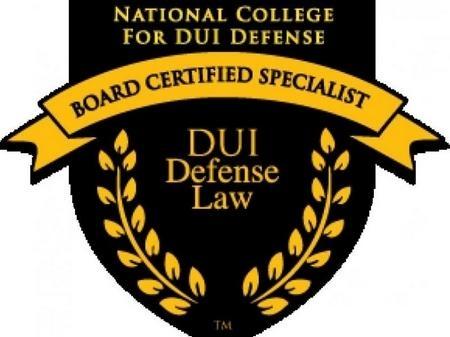 The National College for DUI Defense, Inc. is pleased to announce that on August 11, 2014, the American Bar Association officially approved the renewal application of the NCDD for another 5 years. In 2004, The National College for DUI Defense, Inc. (NCDD) became accredited by the American Bar Association (ABA) to certify lawyers as specialists in the practice area of DUI Defense Law. The NCDD is the only organization in the history of the ABA that has been granted the authority to certify lawyers as specialists in this highly complex area of practice.
What does ABA Accreditation Mean?
According to the ABA, accreditation "signifies that a certifying organization's program has been reviewed by the ABA and found to meet the Standards for Accreditation of Specialty Certification Programs for Lawyers." The accreditation standards were developed to provide both lawyers and clients with a way to identify those certification programs that employ adequate methods and criteria to reliably recognize experienced legal specialists.
ABA Accredited Specialty Certification Programs require their lawyers to:
– Provide evidence of substantial involvement in the specialty area;
– Provide references for lawyers and judges;
– Pass a written examination covering the substantive and procedural law in the specialty area;
– Demonstrate completion of at least 36 hours of continuing legal education courses in the specialty area in the three-year period preceding the lawyer's application for certification;
– Be admitted to practice in one or more states and be a member in good standing; and,
– Be re-certified at least every five years and be subject to revocation of certification if they fail to meet program requirements.
What Does it Take to Become Board Certified in DUI Defense?
In order to become certified, an applicant must satisfy specific practice requirements, and pass written and oral examinations. Before an applicant can be qualified to sit for the examination, they must document a minimum number of DUI trials and contested DUI hearings. Presently, an applicant must show that they have served as lead counsel in a minimum of 15 DUI trials in the preceding 3 years, as well as a minimum of 40 contested DUI matters. In addition to these minimum requirements, references must be provided and other requirements met. A complete listing of the requirements and the application to become Board Certified may be found by going to https://ncdd.com/board-certification.
What if my local DUI practice does not include that many trials or contested hearings?
The National College for DUI Defense is recognized by the American Bar Association as the certifying body for lawyers nationally to become board certified. The College does not undertake to certify lawyers on the state level in this area of practice. States differ widely on rights to a jury trial, access to pretrial diversion programs, and many other aspects of criminal practice that directly impact whether any case will go to trial. Moreover, some prosecutors freely agree to amend the offense to a "lesser" offense while others refuse to negotiate.
The law varies widely from state-to-state as well. For example, some states don't allow a refusal to submit to a chemical test to be offered into evidence. Other states make the act of refusal a criminal offense by itself. Some states require compliance with NHTSA training for field sobriety tests to be admitted at trial. Other states let them in regardless of how they are administered. Some states allow portable breath test results to be admitted into evidence, others accept it only for probable cause purposes. Some states are "time-of-driving" states that enable relation-back testimony; others are anytime within 3 hours of driving. Some states permit DUI roadblocks, others don't. There are many other examples, too many to mention here.
The point is that there will always be differences from state to state in how DUI cases are resolved in the criminal justice system. Board certification on a national level can never take into account all of those differences. It follows then, that a national board certification program must inherently address the issues that might arise in any state, in any jurisdiction, in any court, in any DUI case. It has been said that a board certified lawyer should be competent to handle a matter in which they are board certified, in any court in the United States, subject to local rules and procedures.
Court rules and statutes vary widely, but the knowledge of substantive and procedural law related to DUI law and science, as well as trial techniques and issues, are a necessary part of the certification. The NCDD is aware that the contested matters and trial requirements make many skilled lawyers unable to pursue national board certification. The NCDD, however, does not undertake to certify lawyers skilled at plea negotiation, even though that is a valuable skill in obtaining favorable outcomes. DUI trial practice experience and skills are an inherent part of the ABA recognition of board certification on a national level. The College recognizes the difficulty in obtaining the requisite number of trials – particularly for the more experienced lawyer (a pre-requisite to even apply), but the NCDD is obligated to abide by the rules and guidelines of the ABA in order to maintain its own accreditation.
Does my State Recognize ABA Board Certification?
ABA accreditation is currently recognized in over 20 states, although some states have additional requirements for approval. Please be aware that certification by the NCDD, Inc. does not mean that certification will be automatically recognized in your state. Some states require that the specialty area of "DUI Defense Law" be formally adopted in that state before an individual lawyer may be certified as a specialist. If you would like more information regarding certification in this specialty area for your particular state, please review your state's laws on this topic, then contact the Chairmen of this Committee or the Executive Director of the NCDD, Inc.
How do I apply for Board Certification?
The NCDD is now accepting applications for our next "graduating class." For additional details, please refer to the Rules Governing Board Certification, which can be found at https://ncdd.com/rules-governing-board-certification.
You may review and download the application at https://ncdd.com/apply-for-board-certification. Upon receipt of the application forms and fees, your application will be reviewed to determine if you meet the application requirements. If so, you will be notified of your eligibility to take the written and oral examinations. Completed applications received by August 31, 2014 will be considered for testing on January 22, 2015 at the Yacht and Beach Club Resort in Orlando, FL.
The National College for DUI Defense, Inc. does not discriminate against any lawyer seeking certification on the basis of race, religion, gender, sexual orientation, disability, or age.
FIND AN ATTORNEY
Enter your city, state, or Zip code below to locate a qualified attorney who has demonstrated a commitment to defend those accused of DUI and related crimes.