State Delegate Program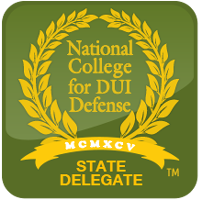 The purpose of State Delegate Program is three-fold. First, the College, through the State Delegates, will achieve a more representative body of lawyers who have chosen to represent citizens accused of DUI/DWI. Second, through the knowledge and experiences of the delegates, the College curriculum planners can target special problem areas particular to certain areas of science and specific jurisdictions, and thereafter, work to remedy and/or improve them.
Delegates will be expected to attend at least one NCDD sponsored seminar per year. State Delegates attending an NCDD seminar will act as hosts assisting the Regents and Fellows at seminar receptions and dinners. Delegates are required to file bi-annual status reports for review by the Board of Regents. Delegates are also responsible to make sure that the laws in their respective state remain updated on the NCDD website as well as help with the posting of briefs and transcripts on the NCDD Virtual Library.
Initially, one delegate will be chosen from each state. The term will be three years and will be staggered. In the future, the College may have more than one delegate per state where the exact number of delegates would be based on population and/or geography.
The College has established several new committees that the delegates will be assigned to further their respective missions, i.e., delegates, legislative, administrative license revocation, FST's, Intoxilyzer, Datamaster, Drager, blood, urine, expert, amicus, strike force, etc., etc. Moreover, after receiving authorization, delegates will be expected to function as College Ambassadors to welcome and assist new College members from their respective jurisdictions.
Any NCDD member can apply for delegate consideration by directing email to the Chair of the State Delegate Committee, Bell Island, at bellisland@charter.net. In doing so, you are asked to tell us a little bit about yourself, your practice and experience with the law (in particular DUI/DWI), your National College for DUI Defense past experience and your future desires and interests with the College. Lastly, be sure to explain how you can help the College improve on its dual mission to make its members the best lawyers in America and to provide the best legal representation to the citizens of our country.
The NCDD has divided its membership into four (4) regions for delegate purposes with a supervising delegate for each region. The current Regional Directors are:
Region 1 - Tom Hudson
Region 2 - Kathleen Carey
Region 3 - Steven Epstein
Region 4 - Lauren Stuckert
---
State Delegates