THE NATION'S TOP DUI ATTORNEYS
BELONG TO NCDD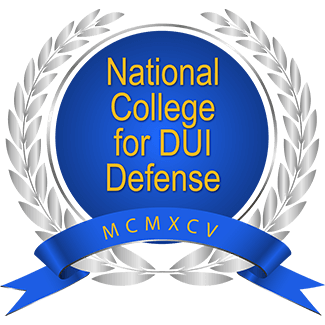 JUSTICE THROUGH KNOWLEDGE
FIND AN ATTORNEY
Enter your city, state, or Zip code below to locate a qualified attorney who has demonstrated a commitment to defend those accused of DUI and related crimes.
Experienced DUI Defense Attorneys
Members of the NCDD are the most experienced DUI defense attorneys in the United States and Canada. Regardless of your location, we can connect you with a lawyer who can help you understand the drunk driving laws in your state or province and work with you to determine your best options for defense.
NCDD Board Certification
Attorneys who are Board Certified by the NCDD can demonstrate that they have a substantive understanding of DUI laws, evidentiary issues, and effective methods of defense. To become Board Certified, a lawyer must pass written and oral examinations that reflect the knowledge and skills needed for an enhanced level of advocacy in the field of DUI defense.
NCDD National Task Force Committee List
2021-2022
The National College for DUI Defense National Task Force maintains a number of committees that are intended to provide relevant information to members, represent the positions of the NCDD and the Board, and protect the rights of citizens pertaining to impaired driving cases. The individuals who serve on these committees play an important role in fulfilling the overall goals of the NCDD and its Board.
NCDD Sessions and Seminars
NATIONAL TASK FORCE WEBINARS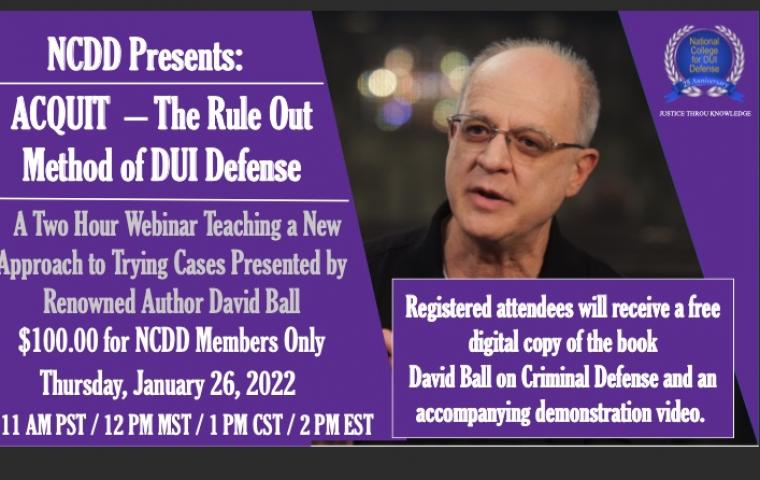 NCDD presents ACQUIT – The Rule Out Method of DUI Defense by David Ball
A two hour webinar teaching a new approach to trying cases presented by renowned author David Ball.
Only $100.00 for NCDD Members Only.
When: January 26, 2023 11:00 AM PST / 12:00 PM MST / 1:00 PM CST / 2:00 PM EST
Registered attendees will receive a free copy of the book "David Ball on Criminal Defense" and an accompanying demonstration video.

MEMBERS IN THE SPOTLIGHT
---
Kim Benjamin
01/12/2022
Kim Benjamin The NCDD Member in the Spotlight is Kimberly Benjamin of Belton, Missouri. Kim has been practicing criminal defense for over 25 years. On top of her practice, Kim has committed herself to teaching trial skills as a faculty member of the Gerry Spence Trial Lawyers College (TLC). She was born in Sacramento, California and was adopted by parents who...

LATEST FROM OUR BLOG
---
...and then, suddenly, it changed everything!
01/10/2023
By Andrew Mishlove The art of storytelling is the primary skill of a trial lawyer. The old paradigm that we argue cases in court is misleading. The adversarial system is a storytelling contest. Facts, science, and logic inform our stories, but the story is the thing. So, what is a story? A story is a narrative that resonates with the listener because...
Become an NCDD Member
Benefits of NCDD Membership
Members of the NCDD not only demonstrate that they are qualified DUI defense attorneys, but they have access to valuable information and resources. We provide access to documentation blood alcohol testing devices and scientific articles related to alcohol, drugs, driving, and testing. We offer training on trial techniques and scientific testing, and we provide access to experts and a comprehensive knowledge base of cases and motions. With all of these resources at your fingertips, you will be able to win more cases.
Membership Plans
Depending on your level of experience, we offer multiple plans for NCDD Membership. Attorneys who have been practicing for less than six years are eligible for a New Attorney membership, while those who have been practicing for over six years can receive a Seasoned Attorney membership. We also offer memberships for Public Defenders. Members may select our Auto-Renew option, or they may manually renew their membership each year.
VIRTUAL FORENSIC LIBRARY
NCDD members have access to a comprehensive forensic library that provides invaluable information to be used when defending clients charged with DUI. This library includes scientific articles on drug and alcohol intoxication, toxicology and pharmacology, methods of testing for blood alcohol content, field sobriety testing, potential errors that may occur during testing, accident reconstruction, expert testimony, and evidentiary rules. This valuable information can ensure that you provide a high quality defense to clients charged with DUI based on the circumstances of their case and the laws in their state.