NCDD Wisconsin Public Defender Seminar an Overwhelming Success
Posted on June 18, 2018 in Uncategorized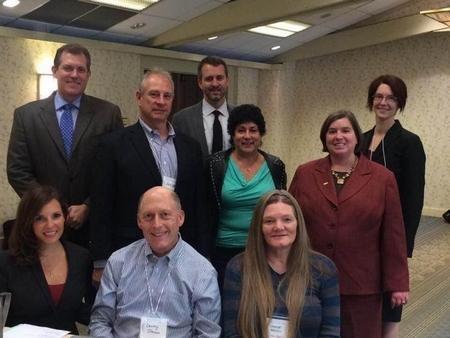 Back row, l to r: Joe St. Louis, Andrew Mishlove, Aaron Nelson, Deja Vishny, Karyn Missimer and Emily Bell; Front row: Lauren Stuckert, Lenny Stamm and Janine Arvizu. Not pictured: Mary McMurray, Michelle Tjader and Dennis Melowski.
On October 8-10, 2014, the National College for DUI Defense, Inc., sponsored a free intensive training course for Public Defenders in Delavin, Wisconsin. Thirty-five (35) Public Defenders from around the State spent three days learning to defend cases involving both blood and breath testing, and working to improve their trial skills. The seminar featured both lectures on a variety of topics relating to DUI charges, and breakout sessions where participants practiced trial skills. The faculty was comprised of Regent Lenny Stamm, Regent Andrew Mishlove, who organized this training, Regent Joe St. Louis, Sustaining Member Karyn Missimer, Wisconsin State Delegate Lauren Stuckert, Member Emily Bell, Member Aaron Nelson, Wisconsin Attorney Michele Tjader, Wisconsin Attorney Dennis Melowski, Deja Vishny, Adjunct Professor at Marquette University School of Law, Expert Witness Janine Arvizu, and Expert Witness Mary McMurray.
Gina Pruski, Director of Training and Development for the Wisconsin State Public Defender's Office, expressed the value she saw in the seminar as follows:
We are particularly grateful because as the laws become harsher and the consequences of a DUI conviction more onerous, we have not been provided with the training and resources afforded to prosecutors in this area. Defending these cases is highly specialized and takes intensive training. The three-day seminar provided just that. The concentration in how the science works gave our young lawyers an in-depth education in how to challenge the prosecution evidence. The trial skills training and breakout groups reinforced what we've been teaching at our trial skills training program. Bringing in the national faculty exposed our staff to the best ideas and practices around the country and networking with the local trainers allowed us to build ties to further our cooperation in defending these cases.

Gina Pruski, Director of Training and DEvelopment ofr the Wisconsin State Public Defender's Office
Comments from attendees included the following:
Amazing seminar! It turns out there is lots we can do for our OWI clients. Learning new things (the science) and new arguments was exciting and even fun. The caliber of presenters was well beyond what I had expected–not only their expertise but their enthusiasm which was infectious.
Overall this training was one of the best I have ever attended. It was well done, well-organized and the presenters were top notch.
The National College for DUI Defense, Inc., has similar free trainings for Public Defenders and Court-appointed Counsel scheduled in North Carolina and Florida, and we are working to finalize seminars in three other states. If you are interested in setting up a free training for Public Defenders and/or Court-appointed counsel in your State, please contact Joe St. Louis, Chairman of NCDD's Public Defender Education Committee, at joestlouis@azdefense.com.
Attached is a thank you letter from the Wisconsin State Public Defender's office:
FIND AN ATTORNEY
Enter your city, state, or Zip code below to locate a qualified attorney who has demonstrated a commitment to defend those accused of DUI and related crimes.