NCDD Board Certification – Want to Learn More?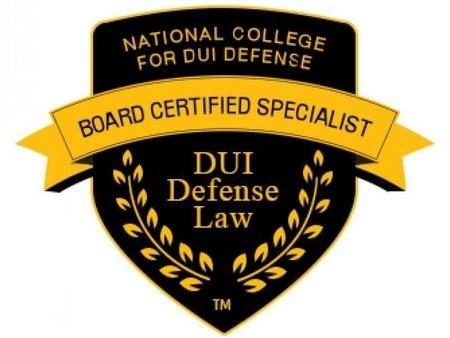 On behalf of the Board of Regents of the National College for DUI Defense, we are please to provide some important information regarding the College's Board Certification program. In an effort to assist the public in recognizing lawyers who focus their practice on defending those accused of DUI and who have demonstrated their competence to do so, the National College for DUI Defense committed itself early in its history to institute a board certification program for DUI Defense Law practitioners. The Board of Regents certified its first lawyers in 1999.
History of Certification in DUI Defense Law
In 2003 the American Bar Association recognized DUI Defense Law as a legal specialty area of practice, and the following year the ABA accredited the National College for DUI Defense to certify lawyers in the DUI Defense Law specialty area. The NCDD is presently the only organization accredited by the ABA in this specialty field. ABA accreditation is currently recognized in over 20 states, although some states have additional requirements for approval. Please be aware that your certification by the NCDD, Inc. does not mean that your certification will be automatically recognized in your state. Some states require that the specialty area of "DUI Defense Law" be formally adopted in that state before an individual lawyer may be certified as a specialist. If you would like more information regarding certification in this specialty area for your particular state, please review your state's laws on this topic, then contact one of the Co-Chairmen of this Committee or the Executive Director of the NCDD, Inc. We are now accepting applications for our next "graduating class." For additional details, please refer to the Rules Governing Board Certification.
Minimum Requirements
In order to be Board Certified, an applicant must satisfy certain minimum practice requirements and pass both written and oral examinations testing his or her knowledge of substantive and procedural law in this field. Specifically, the examination focuses on scientific issues, the NHTSA guidelines on field sobriety tests and drug recognition tests, as well as other legal and ethical issues applicable to the defense of drunk driving cases. See Preparing for the Exam.
Once you pass the examination, you will become Board Certified by the National College for DUI Defense, Inc. for five (5) years subject to the requirements of the National College for DUI Defense, Inc. Your Certification is renewable after five (5) years provided you maintain an active DUI defense practice and meet the standards for re-certification. No written or oral examination is required for re-certification.
How Do I Apply?
If you would like to become Board Certified by the National College for DUI Defense, Inc., you may contact our Executive Director, Rhea Kirk, at (334) 264-1950 to request an application. The rules and application documents are also available online on the College website. All completed application forms must be submitted with one thousand dollars ($1000.00) to the College in order to open your file. The non-refundable filing fee for this application is two hundred and fifty dollars ($250.00). The examination fee is seven hundred fifty dollars ($750.00). If your application is not approved, the examination fee of seven hundred fifty dollars ($750.00) will be refunded to you.
Upon receipt of the application forms and fees, your application will be reviewed to determine if you meet the application requirements. If so, you will be notified of your eligibility to take the written and oral examinations.
When And Where Will The Next Exam Be Held?
Completed applications received by August 29, 2014 will be considered for testing immediately prior to the commencement of the 2015 Winter Session, historically held during the latter part of January. Since the Winter Session travels to a different city each year, once the location and date of the Winter Session are finalized, all eligible attorneys will be notified.
The ability to use Board Certification nomenclature in any context, including your letterhead and advertising, is subject to the rules of the NCDD regarding such usage, and is further subject to the rules of each individual state bar. Please refer to the Rules Governing Board Certification for additional details.
The National College for DUI Defense, Inc. does not discriminate against any lawyer seeking certification on the basis of race, religion, gender, sexual orientation, disability, or age.
FIND AN ATTORNEY
Enter your city, state, or Zip code below to locate a qualified attorney who has demonstrated a commitment to defend those accused of DUI and related crimes.