Eyes on the Road: Automatic License Plate Readers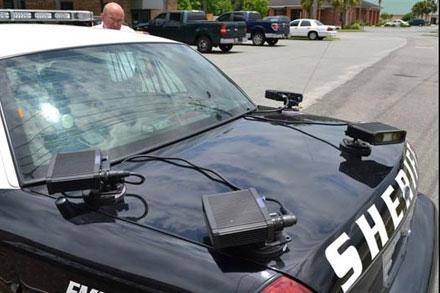 An automated license plate reader, or ALPR, is a computer-controlled, high-speed camera system. They are generally mounted on police cars or fixed objects such as light poles.
The ALPR system was developed for automated toll collection on toll roads. An ALPR camera has the ability to automatically capture an image of every license plate that comes into view. An ALPR can detect when any license plate enters the camera's field, capture an image of the car and its surroundings (including the plate), and convert the image of the license plate into alphanumeric data—in effect "reading" the plate. Each camera costs around thirty thousand dollars ($30,000), which can return revenue when used to catch toll road violators.
ALPR systems record, and save, data on each plate they scan, including not only the plate number but also the precise time, date and place it was encountered. The cameras can scan up to 1,800 license plates per minute, day or night, allowing a squad car to record more than 14,000 plates during the course of a single shift.
In civil litigation, it was revealed that the Los Angeles Sheriff's Department, and the Los Angeles Police Department, which share data, are together able to collect data on about 3 million vehicles every week. That means that over time, these two agencies alone may have amassed a database with billions of hits since the program began.
Automated license-plate readers can be used to identify stolen cars and catch up with people with expired licenses or active warrants. And when they're not piggybacking on police cruisers, plate readers are often affixed to utility poles or freeway overpasses, scanning the passing traffic below. They can be used to keep track of customers in parking lots and garages, and even could be used by private companies to look for cars whose owners are behind on payments and flag the vehicles for repossession.
In a 2014 investigation into automatic plate readers for The Boston Globe, Shawn Musgrave found at least ten repossession companies in Massachusetts that used license-plate readers to do their job. (Todd Hodnett, the director of government affairs for Vigilant Solutions, says he estimates about one in four repossession companies nationally operate license-plate readers.)
The Electronic Frontier Foundation submitted a request in 2014 for information about the Oakland Police Department's use of license-plate readers, and found that the readers were deployed disproportionately often in low-income areas and in neighborhoods with high concentrations of African-American and Latino residents.
"It always raises questions when you blend private companies with inherently public police functions," said Jay Stanley, a senior policy analyst at ACLU. "At the end of the day, private companies are governed by a fiduciary responsibility to their shareholders, which is often incompatible with criminal justice."
Calls from civil rights organizations for policies on the use of ALPR systems, so that defense lawyers and the public could know how the systems were being used, led to the passage of new laws in California, mandating that law enforcement agencies in the state with an ALPR system disclose how, when, for what purpose, and for how long, collected data would be kept.
On January 1, 2016 two new laws in that regard went into effect in California: S.B. 34 requires agencies that use automated license plate recognition (ALPR) or access any ALPR data to publish privacy and usage policies, while S.B. 741 requires public policies for cell-site simulators, a type of cellphone tracking technology often referred to as "Stingrays" or "Dirtboxes." These policies must be posted "conspicuously" on their websites.
Here in Orange County, the Orange County Sheriff's Department set the following policy (taken from the OCSD Manual):
463.3 OPERATIONS Use of an ALPR is restricted to the purposes outlined below. Department members shall not use, or allow others to use the equipment or database records for any unauthorized purpose (Civil Code § 1798.90.51; Civil Code § 1798.90.53).
(a) An ALPR shall only be used for official law enforcement business.
(b) An ALPR may be used in conjunction with any routine patrol operation or criminal investigation. Reasonable suspicion or probable cause is not required before using an ALPR.
(c) While an ALPR may be used to canvass license plates around any crime scene, particular consideration should be given to using ALPR-equipped cars to canvass areas around homicides, shootings and other major incidents. Partial license plates reported during major crimes should be entered into the ALPR system in an attempt to identify suspect vehicles.
(d) No member of this department shall operate ALPR equipment or access ALPR data without first completing department-approved training.
(e) No ALPR operator may access department, state or federal data unless otherwise authorized to do so.
(f) If practicable, the deputy should verify an ALPR response through the California Law Enforcement Telecommunications System (CLETS) before taking enforcement action that is based solely on an ALPR alert.
Although the law mandated disclosure beginning in 2016, there are over 90 cities that use ALPR in California but have not disclosed their policies, in violation of the law.
Here in Orange County, Laguna Beach has used the ALPR system in their city, after passing a City resolution in late 2013. The City of Laguna Beach approved a spend of $100,000 for cameras in Laguna Beach, which are located on Laguna Canyon Drive (highway 133), and on Pacific Coast Highway. Our Orange County DUI Attorneys have noted in police reports that the police will often get a call from someone that suspects a specific vehicle of drunk driving, and will use the ALPR system to immediately know where that vehicle is within the City, or if it is leaving the City.
Other cities within Orange County that use an ALPR system are:
The City of Anaheim (the City of Anaheim also uses cell phone simulators to track cell phones)
The City of Brea
City of Placentia
City of Fullerton
City of Fountain Valley
City of Huntington Beach
City of Newport Beach
City of Tustin
Law enforcement seems to want to hide the use of this technology, both in a lack of mentions of it in police reports and in press releases and in the policies on how it is used. DUI Lawyers should be certain to add this technology in specific wording in the written discovery requests given to the prosecution in a DUI case.
Written by Orange County DUI Attorney Robert Miller, of the firm of Miller & Associates, in Newport Beach, California.
The NCDD Blog is for our members to comment on matters of general interest in the field of DUI Defense and to ask general questions concerning the topics posted. NCDD does not monitor or control answers from the various lawyers (many of whom are regarded as among the best in the country) who may respond and the answers or comments they provide are solely their own. Responses to questions and comments are not legal advice: they are only the opinions of the lawyer providing the answer or making the comment. No attorney client relationship is formed between the person who posts a question or comment and any attorney who posts an answer or comment. The NCDD Blog is not for the purpose of soliciting legal advice for any specific case and should not be relied upon for that purpose. No lawyer can provide advice for a specific case without far more information than can be included in a blog post. Furthermore, the NCDD Blog is not to be used in any form, for any marketing, advertising or solicitation by any author. If you need legal assistance or advice, consult a lawyer in your state. You can find NCDD member lawyers in your State listed under "Find an Attorney" in the menu to the left or at the top of the page. No opinion expressed by an attorney or other person on the NCDD Blog represents the opinion or views of the NCDD.
FIND AN ATTORNEY
Enter your city, state, or Zip code below to locate a qualified attorney who has demonstrated a commitment to defend those accused of DUI and related crimes.