Tony Coleman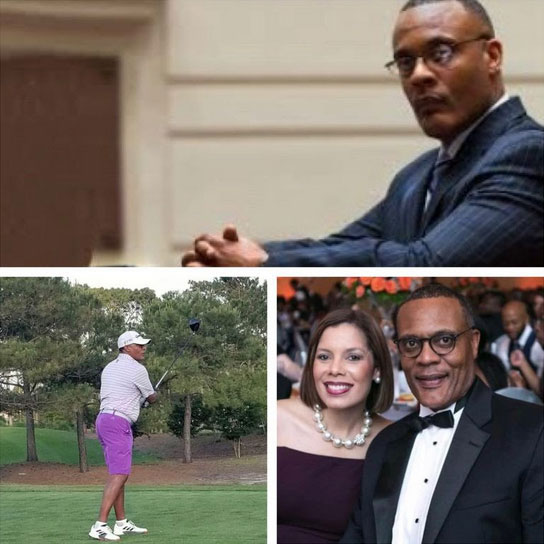 This NCDD member in the spotlight is Tony Coleman of Oklahoma City, Oklahoma. Tony exemplifies the phrase "he could sell ice to an eskimo." Tony was working as a bellman at the Waterford Hotel when the then President Pro Tempore of the Oklahoma Senate spotted his charisma and offered him an internship. That turned into a full-time job as a senior staffer in the Oklahoma Senate for three Presidents Pro Tempores. During this time, Tony earned his degree from the University of Oklahoma and law degree from Oklahoma City University School of Law. He had the entire Oklahoma Senate cheering him on to pass the bar. Politicking and learning the ins and outs of brokering deals was an education in and of itself which proved natural and greatly beneficial for his career as an attorney.
When asked what made him want to become a lawyer, he referenced his passion for solving problems and telling stories. Couple this with his uncanny memory in regurgitating facts verbatim, it was a natural fit. Tony describes his approach to law as a round of golf. "I have a goal in mind. I know where the hole is. Whether you are in a sand trap, out in the thickets or on a new course, you know that you may lose some balls, but you never, ever give up."
On the back of Tony's business cards, he has "Your Lawyer for Life." He strives to deliver the type of service in which his clients feel like family and can turn to him for anything. He gives everyone his cell phone number and answers every text, email and returns all calls despite a staff and very demanding practice. In addition to his stellar work and reputation, he has earned the trust and respect of many Oklahoma politicians which refer him their criminal case referrals keeping him extremely busy. In 2015, his Oklahoma peers voted him the state's highest legal honor, The Clarence Darrow Award (his acceptance speech https://youtu.be/WC2th8sMhiQ ).
In addition to the NCDD, Tony holds memberships with the National Association of Criminal Defense Lawyers, Oklahoma Criminal Defense Lawyers Association, Oklahoma Bar Association, Oklahoma County Bar Association, Cleveland Bar Association, Canadian County Bar Association, Texas Criminal Defense Lawyers Association, and holds a bar card for the Choctaw Nation of Oklahoma and the Absentee Nation of Oklahoma.
Although Tony receives many Not Guiltys, including two jury murder trials tried back-to-back (voir dire for the 2nd trial commencing the day after the verdict of the first), Tony's favorite win is a directed verdict after four days of testimony for a young college football athlete facing life in prison. The trial was in a rural town with no Blacks. The young African American had lost all hope in life after his scholarship was stripped away and his dad passed. Tony beams with pride that this young man now serves our country as a military officer. Tony does not see his job as ending with the case. He loves helping his clients embark on a successful life path which often involves treatment referrals and participation in community organizations and churches.
Tony has been responsible for training and tutoring fifteen lawyers throughout the state, two who are currently judges. His advice to new lawyers is, "Make sure it is something that you really want to do. Do not let anyone reduce you. Build yourself up and go for it. Go at it full force. Be prepared to work and really be committed."
Tony cites his grandfather that raised him until age 11 as the most influential force in his life, along with former Oklahoma President Pro Tempore Stratton Taylor, and Oklahoma Senate staffer Donna Garlick (whose tenure spans fifty five years) whom he lovingly refers to as "mom." Before becoming a senior staffer in the Oklahoma Senate, Tony held a variety of jobs in the hotel industry and served as a sous chef for nearly twenty years. He served many Generals as their personal chef in military bases across the world. Tony has lived in Italy, Germany, and Japan and has visited sixteen countries. He was raised in Texas and also lived in North Carolina.
Tony and his wife share four children and five grandchildren. When not working or spending time with his family, Tony loves to play golf. He is in four traveling golf groups (three in Oklahoma City, one in Houston).
When asked what the NCDD means to him, Tony recounts how NCDD Oklahoma attorney Thomas Hosty approached him and encouraged him to join the NCDD. His first trial as a licensed attorney was a DWI manslaughter, so the training he received was critical to the outcome. Tony, the NCDD is proud of the work that you do and how you better the lives of all you help. There is an old African proverb "Smooth seas do not make a skillful sailor." How you overcame your life challenges from living on the streets of Dallas at age 13 to the present is incredibly inspiring. Your clients, and we at NCDD, thank you for all that you do.
Written by Mimi Coffey