Steven Hernandez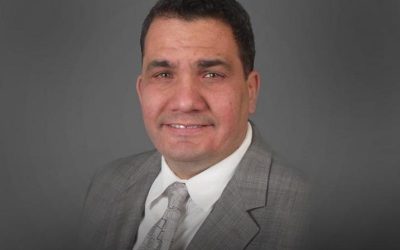 This week's Member in the Spotlight is Steven Hernandez of New Jersey. Steven graduated with a Bachelor's in Business Administration in 1998, from the Rutgers University School of Business. He earned his Juris Doctorate in 2004, from the Rutgers University School of Law. Steven was born in Columbus, Ohio. He grew up traveling all around the world, as his father served our country as an Air Force officer. He even spent time living in Tehran, Iran. He was raised primarily in Riverside, California. It was there that he was inspired by his friend's parents (a pair of civil rights and criminal defense lawyers) to become an attorney. As Steven puts it, "Even though I did not understand what they were doing, I knew they were doing important work. The work, their sense of accomplishment, made me want the same thing."
Steven relishes the most difficult challenges. This is evidenced by his majoring in accounting, and delving into the most difficult facets of DWI science. He has earned the American Chemistry Society's (ACS) "Lawyer-Scientist" classification by receiving the prestigious Golden Column plaque. This evidences his successful passage of an exam as well as successful completion of the ACS's Forensic Chromatography course (both), Forensic Solid Drug Dose course, and the Forensic Chromatography DUI-Drug course. In addition, he has completed an instructor's course on the National Highway Safety Administration's standardized field sobriety testing, a Drug Recognition Evaluation (DRE) overview course, and is a certified operator on the Draeger, Alcotest 7110 evidentiary breath testing machine. In the past, he has also held a Forensic Sobriety Assessment certificate.
Steven shares his hard earned knowledge. His publications include: Inside the Minds: Negotiating a Plea Deal in DUI Cases, Nov. 2011, Inside the Minds: Navigating DUI Drug Cases, Jan., 2012, Inside the Minds: Trends in DUI Discovery, Oct., 2012, Inside the Minds: Witness Preparation and Examination for DUI Proceedings, 2014 ed., and Leading Lawyers on Understanding the Role of Witnesses in DUI Cases, September, 2014. Some of his speaking topics include: the ABC's of DWI, Challenging Field Sobriety Test Testimony at Trial, Defending a DWI Blood Case, Handling Marijuana Cases in Municipal Court, Laboratory Testing in Municipal Court, and Using SFSTs in Court.
Steven's memberships include the American Bar Association, the National Association of Criminal Defense Lawyers, the New Jersey State Bar: Chair Elect of the Municipal Practice Section, the Ocean County Bar Association, and he is a Sustaining Member and the New Jersey State Delegate to the National College of DUI Defense. He is admitted to practice in New Jersey, the Federal District Court of New Jersey, and the United States Supreme Court. Steven was recognized as a Super Lawyer Rising Star for 2013-2014 and has a "Superb" Avvo rating of 10. When asked what his favorite thing is about being a lawyer, his response is "I love to get paid to help save lives." His advice to new lawyers is "Look at the cases with optimism, when you do- you sometimes find that silver lining needed to win."
Steven's favorite win is a felony DWI based on a DRE evaluation whose conclusions were inconsistent with the laboratory's results. Before Steven had the case, a public defender who was in way over his head had recommended the accused plead guilty. Steven made a motion to have an expert appointed. It was denied. Steven appealed; won the appeal, and the Court appointed an expert who disagreed with the DRE's findings. The case was dismissed. Not only had Steven won his client's case, but he also helped cement the important right to have courts appoint experts for the indigent.
For anyone who knows Steven, he beams with pride when referring to the love of his life, his wife Gabriella of 14 years. Their love story and Steven's fairytale courtship evidence how he always plays to win! They have a beautiful daughter Rafaela, who is 8 years old. They enjoy going to Yankees games and boating. He also sponsors his local Jackson High School's Hockey Team.
Ben Franklin wisely said, "By failing to prepare, you are preparing to fail." Steven, you live by this philosophy. Your fearless intrepidness in the preparation of your craft is truly daunting for any who oppose you. Thank you for everything you do for NCDD and the world of justice. You make us proud.