Steve Oberman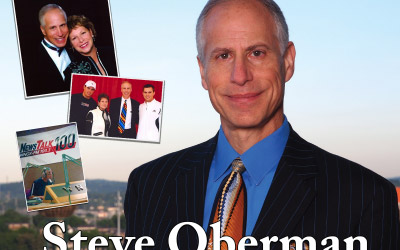 This week's Member in the Spotlight is Steve Oberman of Knoxville, Tennessee. Mr. Oberman is a towering pillar of the highest ethical integrity both in the practice of law and life. He has championed a career in both the defense of the accused in DUI matters and educating other lawyers. He remains a pivotal force in the Board Certification program of the National College for DUI Defense (NCDD), as well as the mastermind behind the annual "DWI means Defend with Ingenuity"™ seminar in Las Vegas, co-sponsored by the National Association of Criminal Defense Lawyers (NACDL). In addition to his private law practice of 36 years, he is currently working his 20th year as an adjunct professor teaching a Trial Advocacy course at the University of Tennessee College of Law.
Steve attributes his hard work ethic to his grandparents and parents. His father is a physician who, before his alleged retirement, was Director of the Division of Preventive Medicine at the University of Alabama (UAB) at Birmingham. He still works one day a week. His official title is Professor Emeritus at the UAB Dept. of Medicine. His mother raised Steve and two siblings. In an entertaining and relevant anecdote of how times have changed, Steve recalls how his mother got her driver's license. She applied in her early thirties. Being extremely nervous when she left for the test drive; the officer drove her back to the starting point and suggested to Dr. Oberman that she might partake of an alcoholic beverage before her next attempt!
Born in St. Louis, Steve moved to the Naval Air Station base in Pensacola, Florida at six years old. Here, while his father studied the effects of flight on the hearts of Navy pilots, Steve and his brother managed to stow away in a gun turret of a destroyer which shipped out to sea! After a stint in Michigan, Steve's family moved to Birmingham, Alabama, where he met his high school sweetheart Evelyn. They are celebrating 39 years of marriage.
Through hard work, Steve acquired many skills that serve him well to this day. His workplace history covers mowing lawns, working as a phlebotomist and an EKG technician, to refereeing basketball games, and selling everything from tear gas to pool cues as a door to door salesman. He remarks that "broadcasting is the job I want when I grow up." During college Steve worked as a disc jockey. He had his own show "Obie's Oldies." He enjoyed meeting a lot of celebrities including Allen Funt (of Candid Camera), John Denver, and Seals and Crofts, among others. He relishes his memory of a dinner with The Guess Who in their dressing room before a concert. After becoming a lawyer, he hosted a talk radio show and worked as an on-air legal consultant.
As for education, Steve graduated from Auburn University and received his law degree from the University of Tennessee College of Law. It was here that he fell in love with the city that he would claim home. Throughout the years, he has trained four associates in addition to the many law students he has taught. He currently practices with his partner Sara Compher-Rice and two associates. Steve is passionate about giving back to the community. His firm sponsors several non-profit tennis organizations. He takes pride in contributing to programs that help underprivileged children learn tennis. He has also spent many hours coaching high school and Law School Mock Trial teams, encouraging others interested in becoming a trial lawyer to reach for their potential.
Steve has a long list of professional accomplishments. He has successfully defended over 2000 DUI clients alone, and became the first DUI lawyer in Tennessee to be recognized by the NCDD as a Board Certified Specialist of DUI Defense Law. Many DUI cases in Tennessee were dismissed due to his successful argument of Tennessee v. Ferrante. Additionally, Steve has authored "DUI: The Crimes & Consequences in Tennessee" (Thomson Reuters-West) and, since 2003, has co-authored of "Drunk Driving Defense" with Lawrence Taylor (Wolters Kluwer-Aspen). Alexei Smirnov described him as a "Brilliant lawyer, great teacher' in the article "Best Lawyers in Tennessee" in Business Tennessee Magazine. A movie was even made about one of Steve's clients who escaped from prison, "Love on the Run." In addition to being a highly sought out speaker, and thanks to another NCDD member, the FBI recruited him to train their recruits on the topic of courtroom testimony at the FBI Academy.
Steve has dedicated himself to the National College for DUI Defense as a Founding Member starting 20 years ago. He has given of his time, energy and resources selflessly in the mission to better equip and train lawyers in the complex field of DUI Defense. He has served as Regent, Dean, Dean Emeritus of the College, and on many committees and continues to play a very active role. His wisdom is priceless. His recommendations to new lawyers:
Concentrate on client service rather than increasing your income;
Be selective about which cases you take. It's not worth the money if your client will be dissatisfied;
Accept fewer cases and spend the time to prepare them well. You will become much more successful financially in the long run when your reputation as an ethical, well-prepared lawyer precedes you;
Return all client calls before leaving for the day;
Appear for court before it starts—being prompt displays respect;
Spend time every week reading new cases and statutes;
Attend seminars to better understand the science of DUI defense. Use your time at the seminars to network and discuss the issues practicing law with others—you'll be surprised at the hints you get. I assure you that the Regents and Fellows of NCDD will gladly share their advice.
To quote Ringo Starr (of Beatles fame), "It Don't Come Easy," but the hard work is part of the process of honing your craft. Never forget you are dealing with the lives of real people dependent on you for assistance. If you stop caring, stop practicing law.
Steve emphasizes spending time with your family. Steve and Evelyn have two children. Their daughter Rachael lives in Knoxville and works as the Donor Relations Coordinator for a regional food bank. She and her husband have a 17-month old son which Steve and Evelyn are thoroughly enjoying! Their son Ben is a Head and Neck Surgeon who will soon move with his wife to practice in Durham, NC.
Steve has practiced law for 36 years and the world has been and continues to be better for it. To know Steve, is to know his gracious ways, sophisticated mannerisms and kind heart. Paul Bryant said "Show class, have pride, and display character. If you do, winning takes care of itself." Steve Oberman is a perfect example of this. We at the NCDD thank him for his dedication and shining example for all of us to follow. It is with great pride that the NCDD features Steve Oberman.