Shawn Dominy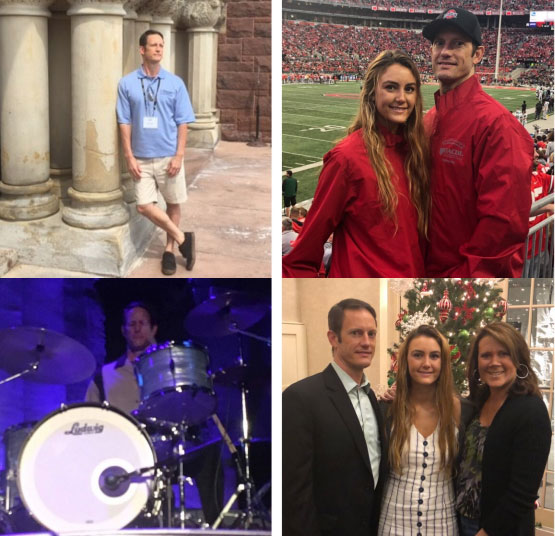 The NCDD member in the spotlight is Shawn Dominy of Columbus, Ohio. He has been practicing law for 21 years.  Shawn is one of six children, the only one to graduate from college. His mother and father were truck drivers.  Shawn grew up being a lifeguard and playing drums in a rock band (the lead singer, Gary Levox, for Rascal Flatts tried out for his band).  Shawn was inspired to enter the law profession because of exposure to his band mate's father, who was the county prosecuting attorney. The band practiced at his house and he did an internship for him. Shawn is a deep roots person. He has spent his entire life in the central Ohio area. He graduated from The Ohio State University and its law school.
Shawn is the President-elect of the Ohio Association of Criminal Defense Lawyers (OACDL). He co-chairs the OACDL annual DUI seminar. He previously chaired OACDL's Publications Committee.  In addition, he is a member of the National Association of Criminal Defense Lawyers, state and local bar associations, the local chamber of commerce and the Better Business Bureau. He has been on the Super Lawyers DUI list for many years, and named by Super Lawyers as one of the Top 50 lawyers in Columbus and a Top Lawyer by Columbus CEO Magazine. He maintains an AV-Preeminent rating by Martindale-Hubbell.
Early on, Shawn has been mentored by the best. In his last year as an undergrad at Ohio State, he took a Criminology class from Dr. Joseph Scott.  Dr. Scott retired from O.S.U. and opened a criminal defense practice hiring Shawn as his law clerk. He worked for him throughout law school and partnered with him once he became licensed.  He went on to open his own practice paving the field for others in Ohio.  Shawn was a part of the landmark case, State v. Lancaster, that killed the Intoxilyzer 8000. Shawn cross examined CMI's head engineer and Ohio's head of Alcohol and Drug Testing, in addition to laying a foundation to expose the machines' problems by directing defense expert Dr. Al Staubus.
Shawn's advice to new lawyers is to take the road less travelled. In order to be preeminent, you must pay your dues through hard work and training. He advises to rise above the mediocrity because "The world needs more outstanding lawyers."
When not working, Sean enjoys giving back. He plays in a cover band called JusTus, composed of musicians who are lawyers and judges from Columbus. In addition he plays drums in the band at his church. He also serves with a local charity called the Common Ground Free Store. He enjoys mission trips to help severely disabled orphans in Mexico, as well as volunteering with his church.  He has been married to the love of his life, Lara, for 25 years. She is a breast cancer survivor. They have a daughter, Natalie, who is graduating from high school this year and who will be attending Florida State University on scholarship.
Shawn is grateful to the NCDD stating "The NCDD sets the bar for excellence in DUI Defense." Yet, it is the NCDD who is grateful to Shawn for his contributions to the world of justice in DUI defense and his leadership. Deep roots bear rich fruits and Shawn is a shining example of this to both his community and those he servers. We honor and recognize Shawn Dominy for his sterling character and leadership as NCDD's Member in the Spotlight.