Phil Price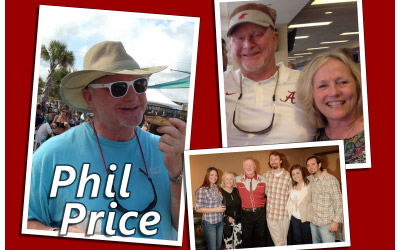 This week's Member in the Spotlight is Phil Price of Huntsville, Alabama. Phil is not only a phenomenal powerhouse lawyer that has changed the field of DUI completely, but on a personal level he is charming, affable, and quintessential pure All American goodness. Phil was born in 1952 in Huntsville, Alabama. His father was a pharmacist and his mother was a homemaker. Phil learned early the value of hard work. His father only closed the family store one week a year for vacation. Phil's first job was at ten years old. He dusted shelves at the family business for twenty-five cents an hour. It should be no surprise that aside from his parents, the most influential person in Phil's life was his high school football coach, Tom Owen, who preached hard work and preparedness. As Phil puts it, "he taught me to prepare, and then prepare some more." A life philosophy that Phil credits for his success.
Mr. Price earned a full football scholarship to Memphis State University. He later transferred to the University of Alabama, where he obtained a degree in Communications. Phil was inspired to pursue the law by his uncle Macon L. Weaver, the United States Attorney for the Northern District of Alabama, appointed by John F. Kennedy. While Macon was the United States Attorney, the warrant for James Earl Ray, the man who assassinated Martin Luther King, was issued through his office in Birmingham. It was Macon who encouraged Phil to go to law school and offered him a place to practice when he finished.
The timing was perfect for Phil. After graduating law school in 1979, Alabama's DUI laws started changing dramatically beginning in 1980, making driver's license suspensions mandatory upon conviction. There were MADD representatives monitoring every courtroom. Phil remembers settling a DUI case where the President of the local MADD chapter called the judge which resulted in an undoing of the settlement and a forced trial in which the jury returned a Not Guilty verdict. During this time period, one particular judge (now a federal judge) forced Phil to try 3 jury verdicts in one week- all of which resulted in acquittals. Phil shared his passion of seeking justice for those accused of DUI by meeting with the original NCDD Founding Fathers in the Chicago Airport as they formed the College. He served as Dean in 1997-1998 and was awarded the NCDD's highest honor, the Erwin-Taylor Award in 2012. To appreciate the breadth of Phil's work, one must understand the changes in law due to his handiwork. In 1994, in a landmark decision, Phil persuaded the Alabama Supreme Court to throw out the Alabama breath test program. To this day, the fact that Alabama breath test machines measure a person's temperature thereby rendering a somewhat more accurate breath test score is due to his litigating. In 1989, the very definition of DUI as a crime in Alabama comes from a case he handled in the Alabama Supreme Court. In 1990, it was Phil's case that established a citizen's right to an independent blood test. There are scores more of precedent setting cases (dealing with the admissibility of SFSTs and breath test discovery and repair records, the right to trial by jury, among others) where Phil, as a gladiator has blazed a trail that protects the fundamental constitutional rights of Alabama citizens of Alabama accused of DUI.
In Mr. Price's over 37 years of practice, he has lectured on DUI in over 25 states, published numerous articles on DUI as well as the DUI textbook relied upon by Alabama practitioners. In addition to his NCDD leadership nationally on DUI, he served as the President of the Alabama Criminal Defense Lawyers in 1992-1993. He has also served as a Faculty Member to the Alabama Bar Institute on Continuing Legal Education and a President's Club Member of the National Association of Criminal Defense Lawyers. He was one of the first lawyers in the country to receive his board certification in DUI in 1999, the year the board certification process was established. He holds the highest peer review rating with Martindale –Hubbell, in addition to being selected by his peers for Best Lawyers and Super Lawyers. He even instructs law enforcement officers on improving their DUI enforcement skills.
Phil's advice to young new lawyers is to stay the course. "Appreciate your wins. Learn from your losses; you will learn more from them than your wins. Be careful and do not get caught up in your own ego. Life is very short. Do not miss too much time from the people that you love."
Phil likes to quote the famous coach Bear Bryant- "When you make a mistake, there are only three things you should ever do about it: admit it, learn from it, and don't repeat it."
Phil has a robust and interesting life outside the DUI world. He is a martial arts Black Belt, possessed an official certified Coast Guard Auxiliary vessel, is a certified instrument-rated pilot, graduated from Steve Raichlen's BBQ University and certified by KCBS (Kansas City BBQ Society) as a BBQ judge. He also obtained a wine-making certificate from the University of California-Davis in 2009 and has passed the first level sommelier course. Phil has been happily married to his wife Debbie for 30 years. They have three grown children and two grandchildren. His son is an assistant wine maker to one of the largest wineries in the Texas Hill Country. His oldest daughter is a happy homemaker to his wonderful two grandchildren. His youngest daughter is in her third year of law school.
When asked about what NCDD meant to Phil, he responded with gratitude towards those who inspired him to get NCDD off the ground; particularly, the Minnesota Society of Criminal Justice, Richard Jensen, Don Nichols, Flem Whited and Tommy Kirk. Phil also wanted to recognize: George Flowers who has been with him for 16 years. He is a former prosecutor from Montgomery County, Alabama. Also, Frank Ward, who just named a partner to the firm, has been practicing with the firm for 6 years.
Thank you Phil Price for being such a warrior for us all. You have laid some amazing groundwork that continues to inspire all across the country. We at NCDD thank you for your astounding contributions and impeccable integrity.