Joseph Hoelscher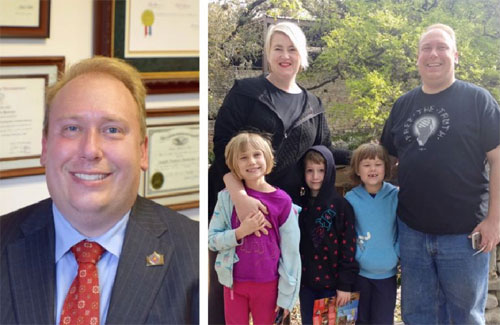 The NCDD's Member in the Spotlight is Joseph Hoelscher of San Antonio, Texas, where he was born and raised. He received his undergraduate and two masters degrees from St. Mary's University. He then earned his law degree from Baylor Law School. Joseph has been practicing law for over 12 years.
Joseph was born at Fort Sam Houston in San Antonio, Texas. His dad was an engineer and real estate developer.  His mom was a fashion designer. When Joseph was very young, his mother went missing while on a business trip. Over the next three decades his family was subject to investigations. His dad, for the mere fact that he was the spouse, was the main target of these investigations. Traumatized from this experience which included overzealous law enforcement, he drew inspiration from his dad's defense attorney Don Saunders and became one.
Joseph mentors for the San Antonio Bar Association Mentorship Program. He is Co-Chair of the Retention Committee for the San Antonio Criminal Defense Lawyers Association. He is a member of the Texas Criminal Defense Lawyers Association as well as the NCDD. His firm sponsors the San Antonio Aids Foundation, Trinity University's KRTU Jazz Radio and various other arts and cultural charities. He sits on the Board of the Starlite Autism Center and volunteers at St. Pius X Catholic Church in San Antonio. In 2001, he coached his Lincoln-Douglas Debate team at the Texas Military Institute to the championship at the state finals. He, himself won the International Public Debate Association's National Championship in 1998.
When asked what his favorite part of being a lawyer is, Joseph replied: "There's a moment when you see in somebody's eyes that you've just blown their mind and changed their whole way of thinking. When you've helped them start to think for themselves and 'get' something. That moment is my favorite thing." His advice to new lawyers is: "Love your clients. When you stop loving them and can't find a way back, then you need to consider withdrawing. Speak from your heart."
Some of Joseph's legal successes include winning an interlocutory appeal which upheld suppression of the blood in a wrong way 18-wheeler DWI that made the local news. Interestingly enough, his dad remarked to Joseph as they saw it unfold on the news together "Even you can't get that guy off." He took that case pro bono.
Joseph has been married for 9 years to his wife, Melissa. They have three children, Louisa (7), and twins Wolfgang and Cecilia (6). Melissa and Joseph spend their Saturdays cheering on their kids at sports games. Joseph also loves to cook when he has free time.
When asked what the NCDD means to him, he said "The NCDD is a game changer for DUI/DWI defense. General criminal defense associations necessarily have a divided focus, but intoxication offenses require a degree of particularized knowledge. Moreover, our adversaries are united nationally by NHTSA and other federal agencies, which provide law enforcement with tremendous resources and guidance. Effective DUI/DWI defense requires a national-level response. The listserve and library make us, as a community, more responsive and adaptable than the top-down approach taken by government agencies. For me, the NCDD is our primary means of redressing the power imbalance between advocates for citizens accused of intoxication offenses and the massive government apparatus constructed to demonize and prosecute our clients."
Joseph Hoelscher truly lives the quote, "You can choose courage, or you can choose comfort. But you cannot choose both."  The NCDD would like to honor and thank Joseph for his fierce dedication to his clients and raising the bar in our craft.