Jim Medley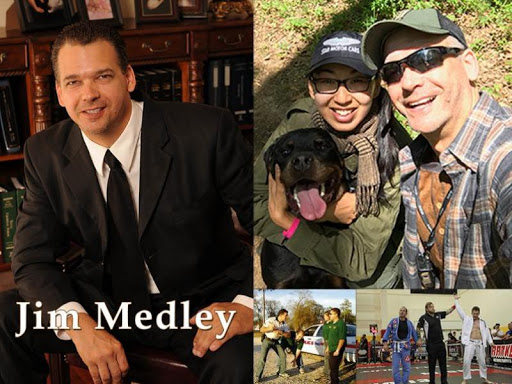 This week's member in the spotlight is Jim Medley of Houston, Texas. Jim was born in Port Arthur, Texas. He was raised in an even smaller town nearby called Bridge City. This area of Southeast Texas is sometimes called the Golden Triangle. Jim grew up with the dream of becoming a police officer. Jim's mother was a licensed vocational nurse in elderly home health care, and his father was an operator at Texaco in Port Arthur for 35 years.
He graduated college from Auburn University in Alabama. After graduation, Jim immediately came back to Texas and became a police officer in Port Arthur. Jim went on to earn three Master's degrees: a Master of Education, a Master of Science in Criminal Justice Management from Sam Houston University, and a Master in Forensic Toxicology from the University of Florida. He earned his law degree from the University of Houston.
Jim has valuable insight into criminal defense from a law enforcement perspective. He never really planned on becoming a practicing attorney until he witnessed a supervising officer physically assault a man whom he arrested. When Jim properly documented the incident and was ordered to make a statement to Internal Affairs, the subculture turned on him. It was at this point he decided to go to law school to fight that subculture. Jim relishes sharing his law enforcement experience with jury panels. He comments, "I think my real-world experience has helped many of my clients get two word verdicts."
Jim's favorite win is an Evading Arrest charge coupled with an Aggravated Assault on a Public Servant charge. His client had inadvertently consumed GHB at a party. He then fled from the police for 20 minutes at high speeds, including going the wrong way on a highway. The chase was recorded on several different in-car videos, including a thermal video from a Texas Department of Public Safety helicopter. Jim's client was finally apprehended hiding under a bush in a forest with a police dog tearing him apart. He was successful with his defense of involuntary conduct and somnambulism.
Jim has excellent advice for new lawyers: "I think a new lawyer must find the niche in law that their skills and personality compliment. Not every lawyer is built to be a trial bulldog. Some lawyers write well and have the skills to advocate effectively in briefs. Feel your talents out while you are young and be open to doing what you are good at, not just what your peers push you into."
Jim is a member of the Harris County Criminal Lawyers Association, the Texas Criminal Defense Lawyers Association, the National Association of Criminal Defense Lawyers and the National College of DUI Defense.
Outside of his very busy practice, Jim finds time for martial arts. He started studying Japanese Jujitsu when he was ten years old. He has gone through Karate and Taekwondo phases, but favors grappling. For the past 8 years, he has been training in Brazilian Jiu Jitsu. He competed from 2010-2015. He also enjoys watching MMA fights and BJJ tournaments.
Jim's status as one of Houston's most eligible bachelors will come to an end this Fall. Jim and his fiancée enjoy outdoor activities and traveling together. They have a one year old Rottweiler puppy.
Jim has been a true asset to the National College of DUI Defense. In addition to his lectures, he has been the Mastering Scientific Evidence's mock trial police officer for many years. "The NCDD has not only given me so many great learning opportunities and great seminars over the past 13 or so years, but the friends and peer connections I've made with lawyers from all over the country has made NCDD participation irreplaceable in my career."
It was Theodore Roosevelt that said, "Speak softly and carry a big stick; you will go far." Jim Medley is the perfect incarnate definition of this. Jim, we at the NCDD are honored to have you among us and thank you for all that you have done.