Jerald Novak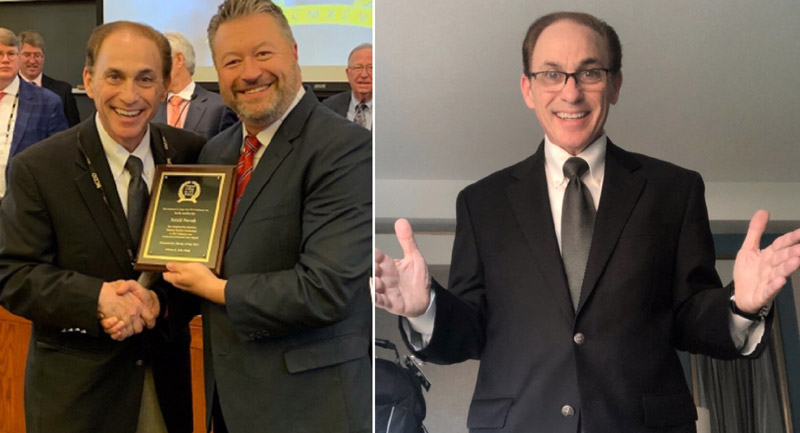 The National College of DUI Defense's Member in the Spotlight this week is Jerald Novak of Chicago., IL. As Jerry describes it, he was born to parents that had little formal education, couldn't rub two nickels together, never owned a house and success was measured by moving up from a Chevy to a Pontiac! Jerry has lived his entire life in Chicago and many of its suburbs. He became a lawyer because he saw many people wrongfully arrested and much corruption in the police department.
Jerry has had all kinds of jobs. His first real business was a Singing Telegram Agency. He has delivered newspapers, jack hammered concrete, painted industrial buildings, sanded dry wall seams, worked in a curtain and drapery factory, detailed cars, sold cars and decorated party rooms with balloons and balloon drops. Jerry said owning a car detailing business helped him learn that the devil was in the details. This is where he developed a critical eye which he attributes to helping him become a great trial lawyer.
Jerry has been practicing law for 32 years. He is a member of the National College of DUI Defense, the Illinois Bar Association, and the Lake and DuPage County Bar Associations. Jerry is known for his magnanimous kindness. He once observed a rooky police officer get torn to shred on the stand. He asked that the officer meet him at his office and he trained him on some very important particulars. That police officer never forgot Jerry's kindness and his reputation for such is just an added bonus where he is known. Jerry recently shared his SFST expertise to public defenders at NCDD's most recent PD seminar in Chicago. Jerry is a solo practitioner, whose two long term assistants have been with him for a combined 24 years.
Jerry's favorite trial wins are all DUIs. He describes his favorite one as the 300 lb truck driver who admitted to having nine beers before driving on his third DUI. During closing argument, Jerry dropped nine drops (representing the nine beers) of red food coloring into a clear bucket (representing his 300 lb body) and when the food coloring disappeared, the jury acquitted him!
In his spare time, Jerry is a NRA Law Enforcement Firearms Instructor. He trains many police officers and civilians in the safe use of defensive firearms. He enjoys motorcycles and mentoring high school boys through Willow Creek Church. He has two children. His daughter Julie is a practicing psychiatrist in the suburbs of Detroit. His son Jack recently graduated from the University of Texas and has accepted a consulting position with Accenture in Dallas.
Jerry's role model is Zig Ziglar, having even gone to his conferences. Jerry said that Zig taught him "you'll never regret doing the right thing" and that "the more people you help get what they want, the more you'll get what you want."
Jerry's advice to new lawyers is that they "must have a personal plan, a marriage plan, and a family plan. Otherwise it is too easy to ignore your spouse, your family and your kids. It is all too easy to work large amounts of overtime and take care of all your clients. Everybody is taken care of except you! It is easy to miss important times in your family's lives. The last thing you want is to have family casualties from your profession. This is the only business where we do battle for our clients while also constantly protecting ourselves from our clients.
When asked what the NCDD means to him, Jerry said, "The NCDD means No One Can Defend DUI better! Joining the NCDD has exposed me to the best of the best attorneys, best DUI defense education, best DUI trial techniques and best DUI tactics. I have grown so much as a DUI defense practitioner since I have been a member. I am a leader in my area and my colleagues constantly come to me for help. I teach other lawyers SFSTs and cross examination techniques. When there's a tough case out there, my colleagues will tell the client to 'call Jerry Novak… he handles the impossible cases!'" Well Jerry, we at NCDD are proud of you and thank you for your passing the knowledge along! William Arthur Ward said, "Teaching is more than imparting knowledge. It is inspiring change." You inspire a lot of change for justice in this world Jerry Novak! Keep on doing what you do!