James Bickford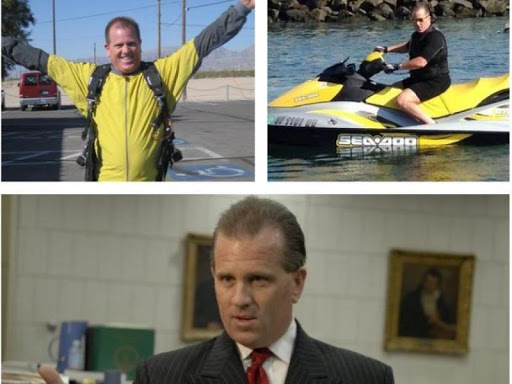 This week's member in the spotlight is James V. Bickford IV of San Diego, California. James earned his Juris Doctorate from the Thomas Jefferson School of Law and his Bachelor of Arts from Hamden Sydney College, majoring in psychology. He also attended Virginia Military Institute (VMI) for two years and takes great pride in being a 4th generation Cadet. James comes from a long line of attorneys and an Appellate Judge. One of 4 boys, he knew at the age of six that he wanted to be a trial attorney. While his brothers grew up watching Bugs Bunny, he watched Perry Mason. James' idyllic life came to a crashing halt when at age 20, he suffered from a near fatal car accident. In the middle of his college career, it suddenly became questionable whether or not he would ever be able to read again. With massive brain injuries accompanied by an iron will, honed from his VMI disciplinary training and his indomitable spirit, he conquered the odds. Prior to engaging in law school, James took his natural gift of persuasion with people and academic psychology prowess to try his hand at sales. He was "schlepping everything from cars to vacation rental properties." What he discovered was "Training on sales is the best education you will get for being a trial lawyer".
After graduating law school, he began his career as an intern at the San Diego County Public Defender's Office. His first jury trial was defending a woman accused of DUI with a BAC of .16 and .17. After a 3 day trial, she was found not guilty of all charges. He went on to pursue DUI specialized training in the National Highway Traffic Safety Administration (NHTSA) standardized field sobriety tests as a practitioner and instructor, Intoxilyzer 5000 for breath test operators and the Robert F. Borkenstein Course on Alcohol and Highway Safety for government toxicologists. As founder of The Law Office of James Bickford, he has dedicated his practice solely to defending DUI cases. He is both proud and dedicated to be a DUI defender of the National College of DUI Defense. Since becoming licensed in 2000, he has attended 13 summer NCDD sessions at Harvard, possibly holding the record of most attendances for years practiced.
James also volunteers and supports: Tomorrow's Future Today, and the Take Action Foundation, whose primary focus is helping children. Exercising the same military discipline he applies professionally, he works out religiously five times a week, despite very little free time. No stranger to risk taking, his other passion is skydiving.
James embodies the principle that you are what you do. Thank you James for your shining example of discipline in education, training, and work. To quote your favorite hero, as Thomas Jefferson remarked, "One man with courage is a majority." Your courage combined with conscientious conditioning is inspiring. We at NCDD are proud to call you friend.