Harley Wagner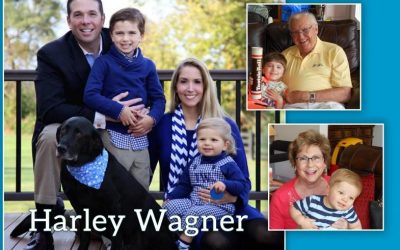 This week's Member in the Spotlight is Harley Wagner of Martinsburg, West Virginia. He has been a member of the National College of DUI Defense (NCDD) since 2001. He is a Sustaining Member, serves on the Faculty, and has served as State Delegate for ten years. Harley received his J.D. from the Thomas Cooley School of Law in 1995 and his B.A. from the University of West Virginia in 1990. He was admitted to practice law in Pennsylvania in 1995 and in West Virginia two years later. He serves on the National Association of Criminal Defense Lawyers' (NACDL) DUI Committee, co-founded the West Virginia DUI Lawyers Association, and co-authored West Virginia DUI Defense, The Law and Practice (published by Lawyers and Judges Publishing Company).
Harley was born and raised in the eastern panhandle of West Virginia. Prior to becoming an attorney, Harley's list of occupations runs the gamut from a busboy at Shoney's, to bank teller, and a very effective car salesman (no surprise!). Harley always has a smile for everyone. It is no surprise he was raised in a family rich with affection and service for others along with tradition. His namesake, his grandfather William Harley Miller, was a World War II hang glider pilot. His mother, Carolyn, was Miss West Virginia in the 1958 Miss America pageant. She later devoted her life to teaching drama and English, skills Harley obviously inherited and uses to this day! His stepfather, Gilbert Miller, was recruited by famed Connie Mack to play for the Philadelphia Athletics, and later spent three decades coaching high school baseball and basketball (the school gym is named in his honor). Harley's father also serves the community in the practice of law as a civil and criminal trial attorney in southern West Virginia.
After graduating law school, Harley began his legal career as an assistant prosecutor in Clarksburg, West Virginia. It is in this setting, Harley became good friends with West Virginia's preeminent DUI defense attorney Jim Matish, who now serves as a Judge for the Fifteenth Judicial Circuit in Harrison County, West Virginia. This mentoring relationship turned full circle, when it was Jim who first called to congratulate Harley for the 5-0 unanimous West Virginia Supreme Court of Appeals decision granting defendants' discovery in breath test cases. The case was so monumental, it was one of only four chosen to be argued (and simulcast) in front of hundreds at the West Virginia School of Law.
Harley returned to his hometown of Martinsburg, West Virginia in 1999, where he went into private practice working for a local criminal defense firm. He eventually became a partner and during his eleven year tenure there, handled all the DUI cases for the firm. In February 2010, Harley went out on his own to open West Virginia's only practice devoted exclusively to defending people charged with DUI. He has appeared in over 1700 DUI cases in thirty-eight different counties in West Virginia. His comprehensive DUI training encompasses the National Highway Safety Administration's (NHTSA) standardized field sobriety practitioner and instructor course, training in Advanced Roadside Impairment and Driving Enforcement (ARIDE) and Drug Recognition Expert detection (DRE), hands on training on the Intoximeter EC-IR, and the American Chemical Society's course on forensic gas chromatography, among his 600 hours of DUI specialized continuing legal education. He lectures nationwide on DUI specific topics.
Harley became a criminal defense lawyer because in his words, "That's where the stakes are the highest and that's where the real action is." His practice philosophy is "to give my clients the best representation." One of his favorite cases is that of State v. Jeffrey McKinney, a 2010 DUI homicide case, which resulted in the plea negotiation of two misdemeanors and no jail time despite heavy media coverage. It is this type of stellar representation that has earned Harley a three time listing of Super Lawyer for Virginia/West Virginia and to his being voted Top Attorney for five years in a row in his hometown newspaper, The Martinsburg Journal. The staff at Harley's firm includes his long time paralegal Heather McCoy of sixteen years, and Connie Caton, administrative assistant.
Harley has been married to the love of his life, Shauna, for fifteen years. (The night Harley first laid eyes on Shauna, she was the date of Valdmir Klitchko, the heavyweight boxing champion of the world). Our Oklahoma members will appreciate that Shauna was born and raised in Norman and is a graduate of the University of Oklahoma. She also has a Master's in Elementary Education from Shenandoah University. Voted Teacher of the Year", she has taught 2nd grade for five years. Shauna now stays home to raise their boys. William Harley Wagner is six, and Wesley Thomas Wagner is two. Their black lab Kota is seven. Harley enjoys coaching his son's basketball and tee-ball teams.
Harley's favorite pastime is cheering on his beloved Mountaineers. He is a third-generation graduate of West Virginia University (his uncle Jimmy Daily is president of the Board of Governors). They are long-time season ticket holders in football and basketball. An interesting bit of trivia for our NCDD golfers, is that Harley was on his high school's first ever tri-state golf championship team.
The legal world is lucky to have Harley Wagner making sure the Constitution is upheld and that citizens' rights are protected. Too often the people who are attracted to law are those who are merely attracted to power. Harley is a true people person attracted to using power for people's good. It was Charles Schwab that said, "Lead the life that will make you kindly and friendly to everyone about you, and you will be surprised what a happy life you will lead." It is no surprise why Harley is always so happy! We, at NCDD, thank you Harley for everything you have done to help NCDD, others in the pursuit of justice and for being such a beacon of fraternal joy.