George V. Laughrun, II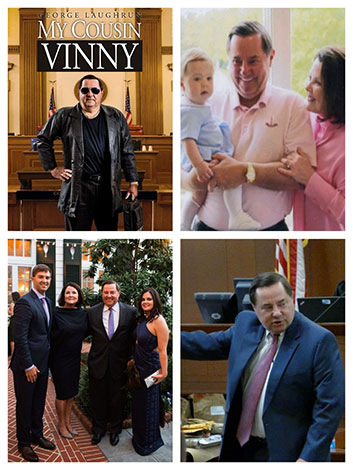 This week's National College of DUI Defense's Member in the Spotlight is George V. Laughrun, II, of Charlotte, North Carolina. George has been practicing law for over almost 40 years and "still loves coming to work". George's reputation in North Carolina is well earned and long lasting. George is board certified in federal criminal law and state criminal law in North Carolina. He has maintained an "AV" Preeminent rating from members of the Bar and Judiciary for more than 30 years. The Charlotte Magazine named him one of Charlotte's "toughest lawyers". The Charlotte Observer wrote that in 2004-2005, no other lawyer obtained more DWI acquittals and dismissals. He has been a member of "Super Lawyers" for the past eight years and the "Legal Elite" (Business North Carolina) for the past ten years.
George is a member of the North Carolina Bar, American Bar Association, National Association of Criminal Defense Lawyers, North Carolina Advocates of Justice, associate member of the Texas Criminal Defense Lawyers as well as the National College of DUI Defense. George was asked to serve on the Mecklenburg County Bar Executive Committee from 1994-1997.
George was born in eastern Tennessee, but at the age of five moved to Charlotte, North Carolina where he has made it his home. His father was a high school guidance counselor and his mother was a pharmacy tech. His parents worked two jobs to put him through law school. His dad, his biggest influence and who taught him the value of hard work "was more proud of me being a lawyer than I ever was." George graduated cum laude from both Appalachian State University in Boone, North Carolina and the Cumberland School of Law at Samford University in Birmingham, Alabama. He was a prosecutor for two years in Mecklenburg County before joining the law firm he still practices in today.
George's favorite aspect about being a trial lawyer is the fight. As he puts it, "a trial is a 'war' and I like to be in the middle of that war." One of his most memorable victories was when his client, a Charlotte Hornet All Star basketball player charged with a DWI involving a serious automobile accident, flew on a private jet after the first day of trial to compete in a NBA game of which he scored a career high, to return the second day of trial to be acquitted. Another favorite Not Guilty for George was a three week jury trial for a University of North Carolina Charlotte football player charged with rape that made national headlines, heavily covered by the press. He tried that case with his daughter as co counsel.
George is the poster boy of solid values, chiefly: stability, hard work, and loyalty. George describes growing up like the "Waltons." He describes it as lower middle class, but not wanting for anything. He worked his way through college as a store clerk at Food Lion and flipping burgers at Burger King. George met his wife on his first date at age 15. They have been together ever since, married for over 30 years. They have a son and daughter who both practice law. George's son practices with him. His daughter practices family law with a large firm in downtown Charlotte. George speaks of the partner of his law firm with gratitude, "I was fortunate to work with the first named partner in my law firm, Arthur Goodman, who passed away in 2003. He took a chance on me and I have been with the same firm since 1982."
When not working, George loves to golf. He describes his group of 15-20 golf buddies as his "second family." They get together weekly. "My group consists of doctors, lawyers, stock brokers, dentists, etc. They come from all walks of life, but on the golf course it does not matter what your profession is." George is a single digit handicap golfer. He enjoys playing at Carmel Country Club, where he served on the Board of Directors from 2009-2013. He is also a member of the Carolinas Golf Association. When not golfing, he enjoys his twenty month old grandson, George V. Laughrun, IV or "Cort."
George's advice for new lawyers is to treat the practice of law as a profession, rather than a business. "I would hope young lawyers realize the best referral is from a client you have done a good job for." George's approach to the law is simple: "There are no 'cookie cutter' approaches to helping our clients." When asked what the NCDD means to him, George states, "Every time I attend a NCDD seminar, I walk away with something new. That is hard to believe after 40 years of practice and numerous seminars. When you attend a NCDD seminar, it is not war stories from older lawyers telling you how great they are, it is practical approaches that you can take back to your own jurisdiction." The NCDD is proud to have George as a member. So much of effectiveness in public arenas, boils down to character. So much of character boils down to values. George, your character, alongside your legal abilities, makes us all look good. We are proud of your achievements, and proud to know you.