Chuck Strain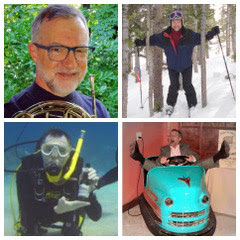 This week's member in the spotlight is Chuck Strain of Cincinnati, Ohio. He's heartbroken to have missed our Summer Session in person this month (he did attend online), which would have been his 20th year in a row. Prior to all those NCDD Summer Sessions, he likes to joke that everything he learned about courtroom techniques came from the original broadcast run of Perry Mason on CBS from 1957 to 1966. Other early TV inspirations were The Defenders on CBS from 1961 to 1965, and Judd for the Defense on ABC from 1967 to 1969. "Argumentative!" ruled some of his early schoolteachers, inciting him to go into law.
Born and raised in Dayton, Ohio, Chuck attended public schools, played baseball, and played French horn. His father was an accountant, but Chuck inherited absolutely no accounting genes. His mother groomed poodles and his two younger brothers went into business and music. He took his first job at age 16 as a soda jerk in a traditional drug store. Other school jobs included landscaping, selling dusk-to-dawn outdoor lighting, delivering the U.S. Mail (his favorite actual job, ever!), and proof-reading a professor's articles. At DePauw University in Greencastle, Indiana, he majored in philosophy and religion, studied in Vienna and Budapest, was president of his Alpha Tau Omega fraternity, was elected to Phi Beta Kappa, and earned a B.A. with high honors in 1975.
After three years serving as a Social Security Administration claims representative in Cincinnati, Chuck moved to Columbus to attend law school. There, he was a judicial intern for a federal judge, a hearing officer in the Columbus City Attorney's Office, and a legal intern with the Ohio Attorney General. He graduated in the top third of his class at The Ohio State University College of Law in 1981. After a backpack trip to Europe while awaiting bar exam results, he turned down an offer from the Ohio Attorney General and returned to Cincinnati to immediately open a solo practice focused on DUI defense. (Yes, right out of law school.) Since then, he's never given himself a promotion.
Chuck has taught at lawyer seminars across Ohio—94 times since 1999—on traffic law, ethics, professionalism, and substance abuse. He conceived and single-handedly taught the Cincinnati Bar Association's DUI Academy, a three-session comprehensive course.
Chuck regularly advises other lawyers on traffic law and ethics on the listserv forum of the Ohio Association of Criminal Defense Lawyers. He proudly coaches new lawyers through the Ohio Supreme Court's mentoring program. He has appeared on radio, on TV, and in print media discussing DUI law.
Chuck has completed the NHTSA-approved student and instructor courses in standardized field sobriety testing. He also holds certificates from courses in the science, operation, and maintenance of the Intoxilyzer 8000, the Intoxilyzer 5000, and the BAC Datamaster.
Chuck has long been a "Cornerstone" sustaining member of the Cincinnati Bar Association, currently serving on these committees: Ethics, Fee Arbitration, Professionalism, Continuing Legal Education Advisory, Administration and Finance, Health and Well-Being, Appellate Practice, Senior Lawyers Advisory, and Solo/Small Firm Practice. He's a member of the Ohio State Bar Association, where he serves on the Council of Delegates and on Ethics, Criminal Justice, Solo/Small Firm, and Traffic Law Committees. He's also a member the Ohio Association of Criminal Defense Lawyers, the Cincinnati Association of Criminal Defense Lawyers, and the Lawyers' Club of Cincinnati, which he served as president in 1992 and from 2010 to 2014.
Chuck met his wife, Samantha, at a contra dance in 1987. In 1989, they appeared with Denzel Washington, Morgan Freeman, and Matthew Broderick in a major motion picture (in a moment of Glory). Chuck proposed to her in the Tuileries Garden of Paris, and they married in 1995.
Samantha is a Broadway star-at-heart and a triple threat (singer, dancer, actor). Retired from her day job, Samantha is especially active in musical theatre. And together, they appear in many Broadway, regional, and community theaters (just in time to take their seats), but you'll often find them ushering as volunteers.
Chuck is an avid French hornist, now primarily playing in the Kentucky Symphony Orchestra. He administers a listserv for over 100 hornists in greater Cincinnati.
Chuck founded the Uplands Historic District Civic Association where he's been struggling since 1992 to restore his 1893 house. He's also struggling to restore his 1963 Lincoln Continental convertible. When not injured, he hits tennis balls, breathes from scuba tanks, and skis down mountains. He likes creamy stouts, bargain-shopping, taking pictures, and guerrilla cultural travel.
The rigorous, yet joyous, Summer Session has become more than an annual pilgrimage for Chuck. "Everybody associated with the NCDD is friendly, fun, fearless, fascinating, and fabulous. I love the lectures and demonstrations, almost as much as the food, drink, and camaraderie. Although I'm fretful before performing in breakout sessions (without getting paid!), they're good medicine for me."
Austin Hall is one of his favorite buildings in the world. "Beyond lying at the heart of the long Summer Session tradition, and being unsurpassed in melding functionality and beauty, Austin Hall was the first edifice purposely built for an American law school. It was designed in 1881 by Henry Hobson Richardson, who lent his name to its very influential style—Richardsonian Romanesque. Did you know that the majestic Ames Courtroom on the top floor was originally the law library?"
Chuck also loves everything about Cambridge/Boston in July, with much to do when not in class. By subway or shared bikes, he repeatedly visits Fenway Park, Boston Public Library, Trinity Church, Elizabeth Stewart Gardner Museum, Museum of Fine Arts, Institute of Contemporary Art, JFK Presidential Museum and Library, Mt. Auburn Cemetery, Minute Man National Historic Park, and the Freedom Trail (including Faneuil Hall, Paul Revere house, Old North Church, Bunker Hill, and the USS Constitution). Many times, he's taken a swim in Walden Pond, and he almost never misses the Commonwealth Shakespeare Company on Thursday evenings in Boston Common.
Chuck's advice to new lawyers: "The main difference between a neophyte and an experienced lawyer is confidence, not knowledge."
What he loves about being a DUI lawyer is defending our collective rights under the Constitution, one client at a time. He's also uplifted by the results of clients getting treatment when indicated. He actually likes everything about practicing law, except collecting the money. Like all of us, some of his pay is non-pecuniary. "My goal in every case has been for my client's family members to be unable to resist hugging me on the way out of the courthouse. But during the pandemic, I can't even get a high five!"
Chuck views many of his daily activities as a lawyer to be in the nature of teaching. "First, I teach my clients about what they're facing and what we can do about it. Then I teach prosecutors, judges, and juries. I so want them to get an A in my 'class!' A happy outgrowth may be to teach officers a lesson, too." Accordingly, Chuck cited this timely quotation of Hunter S. Thompson: "We cannot expect people to have respect for law and order until we teach respect to those we have entrusted to enforce those laws."
With a recent leisurely shift in his work-life balance, Chuck is now semi-retired, splitting his time between Ohio and the high Colorado Rockies.
Beethoven said, "To play a wrong note is insignificant. To play without passion is inexcusable." Chuck, you define passion in both life and DUI Defense. Thank you for all that you have done in the field. We, at NCDD, cherish you!