Carl Ward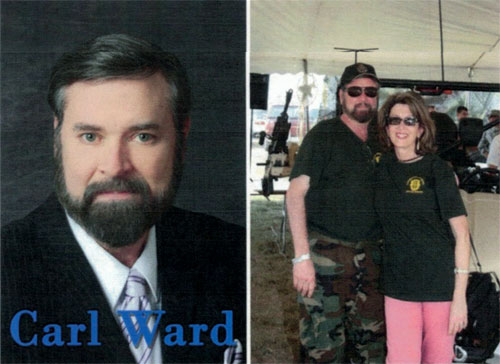 The National College of DUI Defense's Member in the Spotlight is Carl Ward of St. Charles, Missouri. Carl was second in his family to graduate from college, and the only one to go to law school. To pay for both his undergraduate and law school, he worked many jobs: a draftsman, roofer, leasing agent, security officer, and restaurant manager. Attending the University of Missouri, he graduated Summa Cum Laude and went on to receive his law degree from the St. Louis University School of Law in 1984. He determined that law school was quicker than earning a PhD in political science and he, along with the world, is so grateful he made that choice!
Carl is a leader. He has chaired or moderated the largest DWI law seminars for lawyers in Missouri for twenty (20) consecutive years. His mantra is "All in, all the time." He takes it personally when cops cheat and judges or prosecutors just "don't get it." Yet alongside his no nonsense approach, he goes the extra mile for judges who do the right thing. Carl has defended dozens of appeals by the Department of Revenue (Missouri's licensing authority) pro bono for judges making the right call. True to Carl's governing nature, his favorite thing about being a lawyer is establishing good DWI case law in the appellate courts to help everyone. Missouri currently has some of the best DWI case law in the country currently.
Carl is a member of numerous bar associations, including the Missouri Bar, Franklin County Bar Association, West St. Louis County Bar Association, National College for DUI Defense, Texas Criminal Defense Lawyers Association, California DUI Lawyers Association, National Association of Criminal Defense Lawyers, the DUI Defense Lawyers Association, and is a sustaining member of the National College of DUI Defense. He is the founder of the Missouri Society for Criminal Justice, and is past President of the Missouri Association of Criminal Defense Lawyers. He has received numerous legal awards of which his favorites are the Martindale-Hubbell's Client Distinction Award and the Preeminent Peer Review Rating, the Missouri Association of Criminal Defense Lawyers' Bernard Edelman Tradition Award (given to a criminal defense attorney who "unselfishly and generously takes the time and makes the effort to mentor younger attorneys. The attorney graciousl-y shares his or her experience, knowledge, and skills •with other attorneys to guarantee that the proud tradition of defending the citizen accused remains at the highest standards"), the Missouri Association of Criminal Defense Lawyers' Robert Duncan Award of Appellate Excellence (for the lawyer "who exhibits outstanding appellate skills and an unyielding desire to insure fair trial processes for the innocent accused").
Carl credits his hard work ethic to his father who was a machinist and tool die maker. His mother instilled in him a deep passion for doing the right thing as she was a political activist and volunteer. He thanks Missouri legal legend Bernard Edelman for mentoring him in DWI law as a young attorney, alongside special thanks to Flem Whited, Phil Price, Bubba Head, Gary Trichter and Tommy Kirk. Carl's favorite win came when he represented an owner of a local motor vehicle license bureau who was charged with DWI. There had been a fight between one of her employees and a customer and the local PD came to the license bureau and arrested them both. The officer investigating the case told his client he wanted her to close the office (it was full of customers trying to renew their license plates) and come to the PD with her other employee who witnessed the fight and make a statement. She refused, but only after "polling" the two-dozen people in her office that had been waiting patiently in line. The officer became angry and stormed out of the office after telling her to report the next morning. Later that night, the same officer called her at home and ordered her to report to the police station to make a statement or she would be arrested. She complained that she had drank a glass of wine, didn't want to drive, and didn't have a babysitter. She was again threatened with arrest. After making her statement at the station, another officer followed her out of the parking lot and pulled her over in a church parking lot, where he immediately ordered her out of the car and arrested her for DWI. The arrest report later reflected that Carl's client was stopped for weaving and failed four field sobriety tests that were never administered per his client. He believed her. When the case was called for trial, he brought a blank VHS tape to court. He had clearly written on the front of it, "United Baptist Church Surveillance," and laid in on the table in front of him so the officer would be able to see it before he started cross. As he neared the end of cross-examination, he asked for a recess so he could set up the television and video player and take a bathroom break. During the break, the officer came up and asked him what was on the video. He told the officer that it would be wise if he told the DOR attorney to drop the case. When Carl came back, the DOR attorney had filled out a memo confessing the appeal. The prosecuting attorney subsequently dismissed the DWI charge as well. Of course, the video tape was blank, as the church didn't have any video surveillance equipment at the time. The officer ended up confessing and leaving the department after an internal investigation. The Captain of the department asked Carl to send him the tape, which he did. The Captain called on him later, and said Carl should remind him not to play poker with him should the opportunity ever arise.
Carl's advice for new/beginning attorneys: "1) always be prepared for court; (2) take the time to educate (or re-educate) judges by always filing pre-and post-trial memorandums; (3) take the time to listen to your clients and always return their calls; (4) ALWAYS shoot straight with the judge and opposing counsel, even when it hurts; (5) never lose your cool during a trial; (6) work harder than the other guy; (7) always protect the judges who rule in your favor, regardless of whether or not your client can afford to pay you to defend an appeal; (8) think outside the box; (9) be courteous to opposing counsel; and (10) always take the time to help educate other attorneys who ask for your help or advice.
When not hard at work, Carl enjoys going to the auto races with his 87-year-old father. He and his wife Judy (they met in college) have been married for 36 years. They have two daughters and two grandchildren. One of his daughters is a drug and alcohol abuse counselor in Phoenix, Arizona.
Carl is a leader par excellence. Bon Jovi said, —Nothing is as important as passion. No matter what you want to do with your life, be passionate."
Carl defines this. Even in his spare time he describes one of his favorite activities as "educating the public about bad legal opinions through social media and lobbying legislators to change the law where needed." You can always tell a true leader from an 'earn a living lawyer', the passionate advocate is not only defending but out there changing the laws and the public's perceptions for the better. Carl, you define passion in our field and we at the NCDD thank you.