Bell Island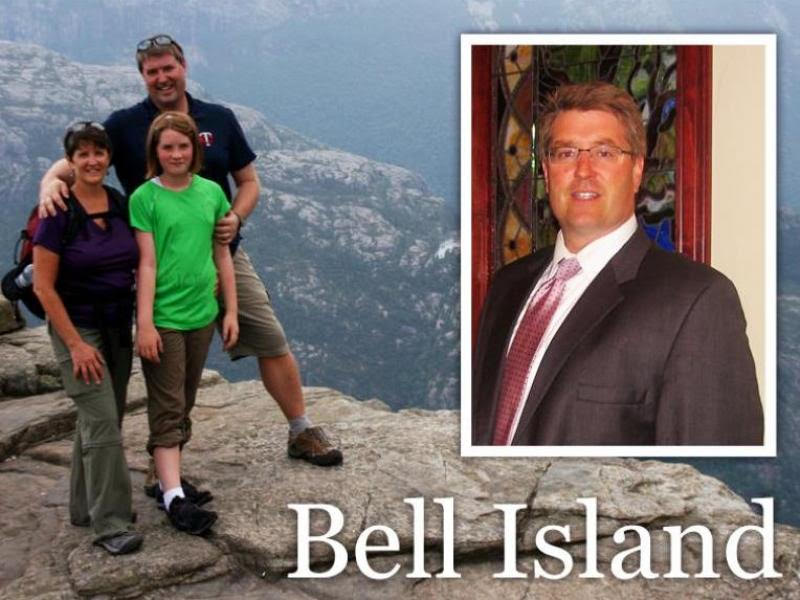 This week's member in the spotlight is Bell Island of Gering, Nebraska. Bell was born in California in the late 1960s to a mom embroiled in the civil rights movement. He spent his weekends protesting the overreaching of the government and marching against injustice. From this, he became inspired by the exposure to lawyers who volunteered their time in the cause.
At age 8, Bell's family uprooted and traveled the country for six months, three of which was working for the carnival. Spreading their wings, they lived in San Antonio and Brownsville Texas. They also lived in Fairplay, Colorado before settling down in Lincoln, Nebraska. This is where Bell attended Junior and Senior high schools. From an early age, Bell learned to work hard at whatever job he had. He hoed cotton in Texas, detasseled corn in Nebraska and raked blueberries in Maine. He poured concrete bridge supports and built scenery for theater to earn his way through college. He graduated from Hamline University in Minnesota where he studied abroad in Eastern Europe, competed as a wrestler and performed in the school's theater. Upon graduation from the University of Nebraska College of Law, Bell worked for four years as a public defender for the Scotts Bluff County Public Defender's Office. As a public defender, he worked a second full-time job as a DJ to pay the bills. He opened his private practice in 1999. Bell is the founding member of the Island and Huff Law Firm.
Mr. Island is a member of the Nebraska Bar, Scotts Bluff County Bar, National Association of Criminal Defense Lawyers and is the past president of the Nebraska Criminal Defense Attorneys Association. He is a sustaining member, faculty member and the Nebraska delegate to the National College of DUI Defense (NCDD), with his hard work earning him the Regional Delegate position. He is also board certified in DUI Defense by the NCDD. He has a 10.0 "Superb" peer review rating through Avvo.
Bell's favorite thing about being a DWI lawyer is the founding father bedrock philosophy of it all. "As I grew, we studied the Constitution and the Bill of Rights. I fell in love with the idea that we, as citizens, had rights and that we insured there were checks on the government's overreaching. I identified with the founding of our nation, brought about as a resistance to a government that was unfair. Something about these concepts touched my soul and encouraged me to fight against the overreaching of the government. To protect people who could not protect themselves, even against a government who had all the resources.I believe the government must be held in check, and I help to check the government by protecting my clients".
Bell does a great job. His favorite case is where he saved a 19 year old his commercial driver's license. It was a .17 blood test case with no expert, which he won shortly after attending the Axion gas chromatography training.
When Bell is out of the office, he enjoys camping and hiking with his family. He has been married over 14 years and has a 13 year old daughter. His daughter is an active soccer and softball player. Bell loves the theatre and attends many traveling tours each year as well as local summer stock. He has performed in several shows, with some of his favorites roles as the Lion in the Wizard of Oz and Lancelot in Spamalot. For the past 16 years, Bell has given of himself immensely in both time and talent to help and inspire young people by serving as the coach for the local Gering High School mock trial team.
Bell brings a fresh zest of diplomacy and skilled advocacy backed by passion and captivating theatrical talent to the practice of law. We are honored to serve alongside him and thank him for his dedication and work to the NCDD and the cause of justice. Daniel Vare remarked, "Diplomacy is the art of letting someone have your way." This is truly the definition of a successful trial attorney and we are proud to have you as a shining example of success in this pursuit amongst us.