Ava George Stewart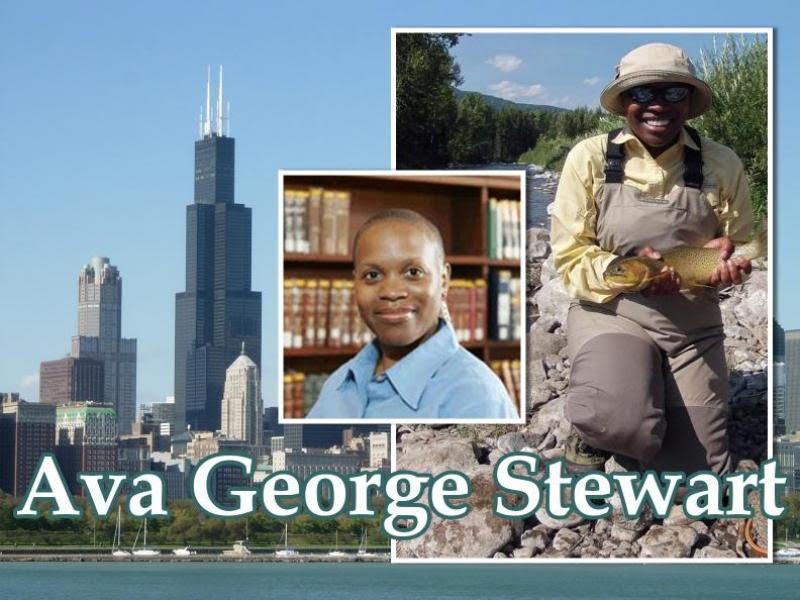 This week's member in the spotlight is Ava George Stewart of Chicago, Illinois. Ava received her Juris Doctorate from the University of Illinois, 2003 and holds a Master's degree in Managerial Communications and a Bachelor's degree in History and Sociology from Northwestern University, 1989. Ava was born in and raised in Orangeburg, South Carolina. Ava's thirst and life long quest for knowledge came naturally from her parent educators. Her mother retired as a high school teacher and her father was a professor at the local university. Ava has a strong will to better the world. Before going back to law school, Ava served as the Executive Director of several non-for-profit organizations, including Chicago Youth Centers, Wings.
One can witness Ava's commitment to societal change and improvement through her selfless involvement and countless hours of volunteer time. She currently serves as co-chair of the WBAI's Criminal Litigation Committee, is the Illinois Delegate for the National College for DUI Defense, and serves on the DUI Committee of the National Association of Criminal Defense Lawyers. She was re-appointed to the Illinois State Bar Association's Illinois Bar Journal's Editorial Board, and the Standing Committee on Marketing & Communications; additionally, she has been appointed the Chair of the 2015-2016 Criminal Justice Section Council, and was re-elected as a member of the Illinois State Bar Association's Assembly for a two year term in 2014. Ava served as the Chair of the Traffic Laws and Courts Committee for the Illinois State Bar Association in 2011-2012. She currently serves as a Board member of the Chicago Lincoln-American Inn of Court and Women Everywhere. She is also a member of the Cook County Bar Association and The Lawyers Club of Chicago, as well as a founding member of the Women's Criminal Defense Bar Association. She is a past Board member of MLER, Minority Legal Education Resources; an organization that prepares Illinois law students to pass the Illinois Bar Exam.
Upon graduating law school, Ava served as a municipal prosecutor for the City of Chicago for two years before opening up her own law firm in 2005. Alongside her practice, she is a frequent presenter and panelist at legal conferences and seminars throughout Illinois and nationally. Among her published works is NHTSA's Visual Cues For Impairment of Motorcyclists, co-authored with Jess Paul and published in the Champion in August of 2013.
When asked why she became a lawyer, her simple response was "I wanted to make a difference. I thought there was a need for advocacy to make systematic change." She describes her favorite wins as those whenever a client asks for a hug. "When they take that first big gulp of air (it is really the first time they have breathed since they were charged) and realize that it is over. That they get their lives back. Most recently, this happened shortly after the client finished college and was en route to law school." Speaking of which, it is hard not to be inspired by Ava. Even her paralegal became so fired up, he left her practice to go to law school and is now practicing in Massachusetts.
In the little spare time Ava does have, she enjoys it with her husband of fourteen years, Alistair George Stewart. Their furry four legged object of affection is eleven. Even her hobby has turned into more volunteer work. Ava enjoys gardening and then canning-preserving her home grown fruit and pickled vegetables. She shares this knowledge with others through serving as a board member of The Angelic Organics Learning Center (since 2012), a non-profit who assists urban and rural people build local food systems.
It was Mahatma Gandhi that said "Be the change that you wish to see in the world." Ava, you are a shining example of this. We at NCDD want to express thanks for all you do. We are honored to serve alongside of you.